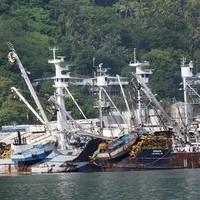 The dilemma American Samoa is facing due to restrictions on fishing grounds for US tuna boats that supply the local canneries is attracting the attention of overseas media.
Radio Australia's current affairs program, Pacific Beat, ran a feature yesterday concerning the dire situation that the territory's economy faces because of fishing boats not being able to go out to fish.
Produced by veteran Pacific business affairs journalist, Jemima Garrett, the report said that Pago Pago Harbor is unusually quiet at the moment – instead of the hub bub of unloading tuna boats there is silence as the entire fleet sits tied up and unemployed.
One third of all American Samoa's jobs and revenue comes from its two canneries and its tuna industry.
76- year-old Herman Thomsen employs 90 people to load and unload tuna boats and says things have rarely been as bad.
He says: it's devastating, for us our annual income.. we are about 60 per cent down on our gross income because the boats are not coming in.
Asked what sort of impact this is having on his employees, Thomsen said the impact is, tremendous .
The value of a pay check for his employees when the boats were coming in was between $200 and $300 a week, now they are barely getting $90 a week.
Thomsen says his workers are barely getting enough to put food on the table.
And the repercussions are being felt well-beyond Pago.
Almost three quarters of the workers in American Samoa's tuna industry are citizens of neighboring Samoa or other Pacific Island nations.
Those workers have family at home depending their remittances.
Joseph Pereira, Executive Assistant to Governor Lolo Moliga says the big fear is that one to the canneries will close.
He says, "It has happened before. Business is business. If they are not going to get the return on their investment they will leave and that has happened before."