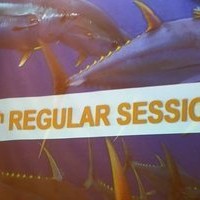 It's now official. The United States is withdrawing from the South Pacific Tuna Treaty, according to the State Department. KHJ News Washington D.C correspondent Matt Kaye reports.
The United States is submitting its "notice of withdrawal" from the South Pacific Tuna Treaty.
That, from a US State Department official, who asked that they not be named, since they were not authorized to speak publicly about the decision…
But after several years of "difficult negotiations and discussion," the official says the "terms of access" in recent years have "steadily deteriorated"to the point where the Treaty is "no longer viable."
The official states that for over two-decades, "the Treaty has provided a solid foundation for a mutually beneficial strategic and economic relationship" between the US and Pacific island parties.
The official continues, U.S. withdrawal from the Treaty will allow the U.S. industry to negotiate directly with Pacific Island parties in the future for more flexible fishing access arrangements, responsive to changing market conditions.
It will take one year from the notice of withdrawal for the Treaty to cease to have effect.
Over that time, the State Department says the US stands ready to discuss with the parties whether the Treaty can be restructured.
The US believes the best way forward for all parties in the near term would be for the Pacific Island parties to revise the terms for the U.S. fleet for 2016.
The State Department offical says, the US is communicating with Pacific Island party representatives and is eager to continue working with them to help find a solution.
The owners of American Samoa's second cannery, Samoa Tuna Processors, recently said the tuna treaty is obsolete and needs to be revised.
Tri Marine International saysthe treaty in its current form fails to retain the most value for the resource owners, because the Vessel Day Scheme places value on fishing days alone,rather than the tuna itself.
Some of the US purse seiners that were fishing in Pacific waters under the Treaty have stopped fishing because they dont have licenses.
US vessel owners informed the agency which approves the permits, the Forum Fisheries Agency, that they cannot meet the payment which was agreed to for 2016.