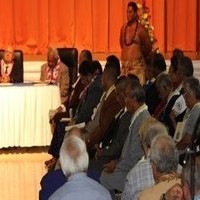 Representative Faimealelei Anthony Allen does not plan to call any witnesses to testify on the administration's $2.5 million supplemental budget bill as well as his bill proposing pay increases for the Fono.
As vice chairman of the House Budget and Appropriations Committee Faimealelei is scheduling a hearing on the bills for this Friday morning.
But he's told colleagues that he's not calling any witnesses to testify on the bills.
He just wants the Committee to discuss the proposed legislation.
The Aua lawmaker wants the salaries of the Senate President and Speaker of the House to be increased from $30,000 to $50,000 and that of senators and representatives to be hiked from $25,000 to $45,000.
Under his bill introduced last Friday the pay for the Swains island Delegate in the House would be doubled from $20,000 to $40,000.
Fono leaders and members are also paid tax free expense allowances.
Faimealelei's bill does not identify a funding source for the pay increase,.
Also to be discussed at the Friday hearing is the administration's supplemental budget bill of $2.5 million.
The billl would restore funding for the American Samoa Visitors Bureau and seven special programs under the Governor's Office which the Fono had cut from ASG's Fiscal Year 2016 budget.
The supplemental also funds new special programs.
Restoration of the Fono guesthouse is to get $500,000, $200,000 is allocated for Judiciary professional development, $400,000 is for coastline guardrails, $100,000 is proposed for Matafao shoreline protection, Vatia is also to get $100,000 for shoreline protection, the Adopt a School Program is to receive $100,000 and training for LBJ Dialysis Staff will use $250,000.
The funding source for the supplemental bill is $992,500 that the governor vetoed in the FY2016 budget, $1.3 million that was recovered from the Vietnam wire fraud and $300,000 in revenues from freight charges for cargo to and from Manu'a.