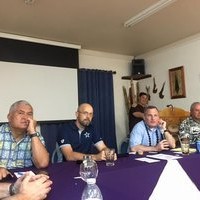 Republican Presidential Candidate Jeb Bush Campaign rep Alan Philip was on island this holiday weekend reaching out to local Republicans.
He spoke at length to a dinner of 40 on Saturday night at the Tradewinds Hotel, as the presidential hopeful tries to gain ground in the upcoming primaries.
American Samoa holds 9 delegate votes and plays an important role in the primary process in this election year.
Philip appeared on the Samoan Sunrise Show yesterday.