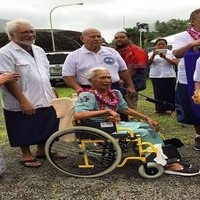 Saturday was a day of celebration for the village of Fagatogo when its newest fautasi, a high tech Iseula o le Moana III, was blessed.
Chiefs of the village and church leaders gathered with the elders, the untitled men, mothers, fathers, the young people and children to witness the blessing and launch of the new pride and joy of Fagatogo.
Government leaders also turned up in force. Governor Lolo Moliga, Senate President Gaoteote Palaie, himself a fautasi captain, House Speaker Savali Talavou Ale and several lawmakers and directors were present.
Rev. Iasepi Ulu of the Fagatogo Congregational Christian Church of American Samoa advised villagers not to forget God now that the boat was successfully completed.
He cautioned the elders and traditional leaders not to fall prey to what has become a common practice in the sport of fautasi racing….people offering bribes so they can be picked in the crew.
Rev. Iasepi said if the village wants the new Iseula to succeed they must do the right thing and not be part of injustices.
Treasurer Punaoa D Tofiga, one of the 12 committee members in charge of the fautasi project said the total cost of the new fautasi, includes the cost of a new boat shed, materials, and labor.
Fagatogo retained the services of Mr. Mark Daniel who built two of the high tech Pago Pago Aeto to construct the Iseula ole Moana III.
Daniel was thankful to be picked as the builder and he listed among those he thanked the names of a local crew who helped him.
Due to windy weather which made his remarks almost inaudible, his comments are excerpted.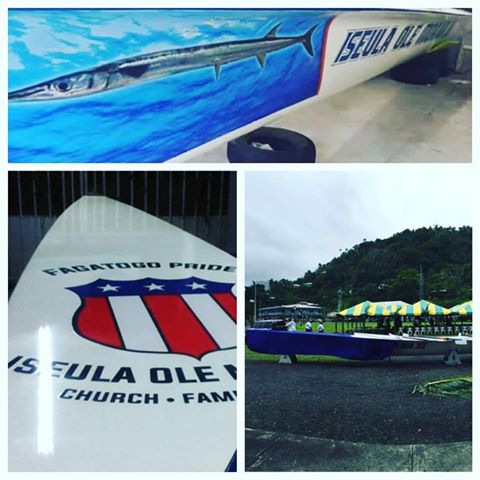 With the most senior chief of Fagatogo and former senator Tiumalu Sia Scanlan giving thanks to God for the completion of the new fautasi, Rev. Iasepi blessed the boat and chiefs of the village unveiled the beautifully designed name of the, Iseula o le Moana III.
As tradition dictates, Fagatogo reciprocated the presence and monetary gifts from the invited guests and honored the boat builder with sua, and the day concluded with a feast.