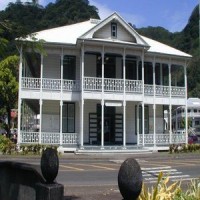 The High Court has accepted a change of plea by 24-year-old James Taito in connection with the 2014 break in of a home in Ottoville during which a computer was stolen.
James, who was charged with second degree burglary, stealing and trespassing, pled guilty to stealing and the other charges against him were dismissed.
According to court filings, on December 2, 2014, the defendant entered a home in Ottoville and took the owner's laptop which was valued at about $1,800.
The homeowner had previously given ukulele lessons to the defendant in his Ottoville home.
Chief Justice Michael Kruse asked the defendant what he did with the laptop.
Taito said he returned it to the owner.
Taito faces seven years imprisonment and or a $5,00 fine when he's sentenced February 17th.