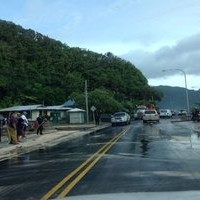 There were no further reports of land inundation by high surf generated by Hurricane Victor as it headed farther away from American Samoa today.
The Emergency Operations Center said that one Public Works crew which was out yesterday clearing areas of the road covered with rocks and debris continued their clean up work today.
They were at Fatu ma Futi around 7 this morning,
Faletoa Ulufale of the Department of Homeland Security said there were two teams checking on areas which were affected by high surf Saturday and yesterday,
While roads in coastal villages were submerged in water during high tide, Homeland Security staff witnessed a group swimming at Leala Sliding Rocks in Vailoa and urged them to leave the beach as their lives were in danger due to very strong rip currents.
A church group was also having a picnic at Utulei Beach and many children were swimming.
Ulufale said they could only advise, but they cannot remove people against their wishes.
The EOC didn't receive any calls about weather related incidents today.
Although Manu'a was closest to the path of Hurricane Victor it fared better than Tutuila as far as wave damage.
The only report received was that the road between Tau and Fitiuta could not be crossed because a section was covered with huge boulders.
For now the only warning remaining for all islands is a high surf advisory and a small craft advisory.