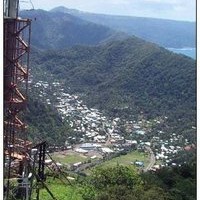 At 1:30 this afternoon, the American Samoa Power Authority restored power to the transmitter site at Mt.Alava which powers KVZK-TV and our radio stations 93 KHJ and V103 Radio.
Strong winds caused a power outage to the transmitter site on Mt. Alava and from that time to this afternoon, the power was on and off but mostly off .
This took our two stations and KVZK-TV off the air.
But we continued broadcasting and our signal was received in the Bay Area, over the internet, and on Island Channel 13
General Manager of Southseas Broadcasting Inc., Joey Cummings, said ASPA had been waiting for a break in the weather to carry out repairs.
And the first opportunity was today.