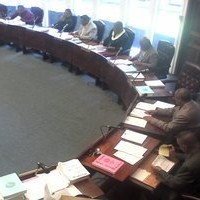 The state of affairs at the territory's only hospital generated discussion in the House of Representatives on this first working day of the Third regular Session.
Representative Vesi Talalelei Fautanu Jr., Chairman of the House Hospital and Health Committee said it appears there's a lack of direction and management at the LBJ Hospital.
As the freshman lawmaker sees it, the hospital is unable to deal with employees and it doesn't know how to budget and manage its funding,
He said while the Fono was on recess a lot happened at the hospital that only a few are aware of.
He didn't specify what he was referring to but said that the House needed to find out what's really going on at the hospital so they can help address problems occurring there.
During the Fono recess, the LBJ Chief of Pediatrics, Dr, James Marrone's contract was not renewed and the hospital faced a severe cash flow problem because ASG was not paying monthly subsidies and other payments from the federal government, which has affected medical supplies.
The committee chairman is calling two separate hearings, one with Treasurer, Ueligitone Tonumaipe'a and the other with LBJ CEO Taufete'e John Faumuina and Chief Financial Officer, Pauline Gebauer.
Vesi referred to Governor Lolo's State of the Territory Address yesterday in which he called for leaders to work together as well as the Senate President's statement that leaders should not back away from making changes that are necessary for the good of the people.
Rep. Puleleiite Tufele Li'a Jr. suggested that the House Health Committee sit down the the Hospital Board for a face to face discussion to come up with solutions, rather than hold hearings.
He said the House has held so many hearing in the past and lawmakers hear the same statements from witnesses over and over again. He didn't think there would be any change if they have another hearing.
But Rep. Vesi said hearings give lawmakers an opportunity to ask questions based on the concerns of their constituents, and they can hear all at the same time, the witnesses' answers.
He said the hearings were not intended to question board members and LBJ management about what they are doing wrong , rather it's a chance to explore solutions to resolve recurring problems.
Representative Atalina Asifoa, Vice Chair of the Health and Hospital Committee, expressed grave concern about the situation at LBJ and was particularly worried about the Dialysis Unit.
At the end of the discussion, two hearings were scheduled.
The first one with the Treasurer is set for 8am Wednesday, followed by the second hearing with the Hospital Authority Board and CEO.