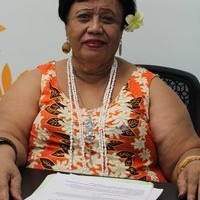 It's never too late to run a business.
At 72, while others her age may be thinking retirement, Niuamoa Lilly Hunt is getting into not just one but four businesses, including one that is a totally new line of work for her.
Niuamoa is one of four business owners selected to set up at the Small Business Incubator at the Fagatogo marketplace.
She used to operate a tax preparation business at Nia Marie Building but lost it when she moved off island for a year to tend to her sick husband.
Her business in the incubator covers tax preparations, real estate and investment, grants and loans, and collections for ASG.
And she's added tourist excursions.
Niuamoa who grew up at the Polynesian Cultural Center in Laie, Hawaii feels she can offer tourists a new experience and is looking at Australia for her clientele.
Niuamoa also believes a market exists for real estate in the territory but laws are needed to govern the business and protect brokers and customers.
She says lawyers are acting as real estate brokers and charging up to 30% of the value of property whereas from her experience in the mainland, the going rate was about 6%.
Tags: