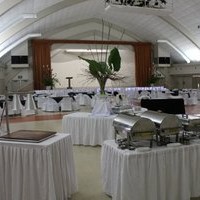 The tables have been set and Lee Auditorium is transformed into a stately dinign hall for Governor Lolo Moliga and Lt. Governor Lemanu Peleti Mauga's state dinner this evening.
The governor's executive assistant Iulogologo Joseph Pereira told us earlier this week that the dinner is to express the appreciation of the leaders of the executive branch to the Legislature for "transcending personal agendas and working collaboratively on implementing projects which will create maximum benefits for all the people of American Samoa and not a select few.'
Iulogologo said given significant uncertainties and challenges facing the territory this year, continued collaboration and cooperation is more important than ever.
KHJ News took a peek of the dinner set up inside the Lee Auditorium this afternoon.
There were enough tables and chairs for a sit down dinner for 100, with buffet trays set up on the sides, and huge vases filled with white and red teuila.
The invitees are all of the 39 lawmakers and Fono leaders, all of the cabinet, plus directors of semi autonomous agencies, the Chief Justice and members of the bench, traditional leaders and other invitees of the governor and lt. governor.
The dinner comes a few days before the governor appears before the Fono to deliver his State of the Territory Address.
KHJ News sent follow-up questions to Iulogologo and the Governor's Chief of Staff Fiu Johnny Saelua earlier this week regarding the budget for the dinner and how the government could afford it when there are pressing financial needs such as the subsidy for the LBJ Hospital, payments for vendors who have been waiting for months for an ASG check and given the uncertainty with the canneries due to issues with access to fishing grounds.
Our questions have not been answered.