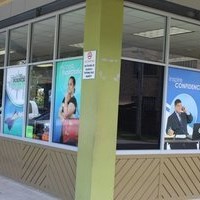 The owners of four businesses now set up at the Small Business Incubator at the Fagatogo Marketplace are grateful for the government's efforts to promote small locally owned businesses.
But they say there are some critical issues that the department responsible for the incubator, the Department of Commerce, may be overlooking.
Jacinta Tialavea co owner of a business that supplies handicrafts and school apparel, Shekinah Create, explains.
Play Audio
Tialavea and business partners Aileen Solaita and Vasati Ieremia said they have approached the Department of Commerce concerning the decals and have been told they will look into it.
At the same time DOC lets them know that a lot of money was spent on the decals which promote the role of the business incubator.
Ieremia, said the tinted windows make it difficult for them to promote their products.
One window in their store is not tinted and they are taking advantage of it to display their products and attract potential customers.

The incubator also houses an office for the Small Business Development Center which will be providing quarterly training in business marketing and development for the new businesses.

These tenants are expected to be housed in the incubator for a year until they are able to stand on their own two feet then move out.

Tags: