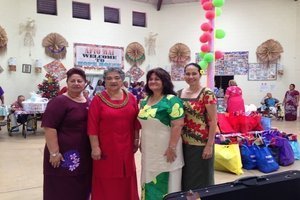 Cabinet members greeted, serenaded and presented gift baskets to residents of Hope House this morning.
First Lady Cynthia Malala Moliga was part of the entourage of female members of the cabinet and Governor;s Office staff who paid a visit to the home at Fatuoaiga, spreading songs of the season and bearing gifts.
Director of Education Vaitinasa Dr. Salu Hunkin-Finau spoke on behalf of the government and introduced the First Lady.
Other members of the group were Chief of Staff Fiu John Saelua; Deacon Malaki Timu, Acting ASCC president Dr. Rosevonne Pato (ASCC); Chief Procurement Officer Dr. Oreta Crichton; Director of Public Works Faleosina Faiai-Voigt (DPW); Director fo Budget Catherine Saelua, Director of Marine & Wildlife Resources, Dr. Ruth Matagi-Tofiga and President of the Development Bank of American Samoa Ruth Matagi Faatili.
The elderly residents eagerly introduced themselves and the villages they come from while Hope House Manager Josephine Tavale spoke for those who were too shy or could not speak for themselves.
Play Audio
The cabinet members sang Christmas carols then presented gift baskets to the residents who showed their appreciation with applause and smiles all around.
Also present was Chairman of the Hope House Board, David Robinson.
Hope House has 20 permanent residents and some get to go hone to spend the holidays with the families then return after New Year's Day.