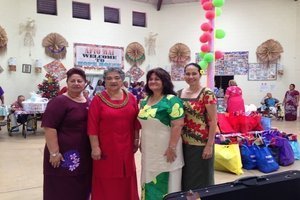 Economic cooperation between Samoa and American Samoa is the focus of discussions that got underway this morning between CE's of both sides of Samoa.
An expected outcome is an agreement that covers trade and economic development partnerships which would be presented at the next meeting of leaders of the two Samoa.
17 CEOs and staff from government and private sector in Samoa are here for the talks.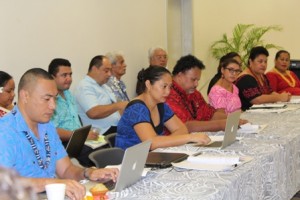 American Attorney general Talauega Eleasalo Ale thanked the co chairs Director fo Commerce Keniseli Lafaele and the CEO of the Ministry of Commerce, Trade and Industry from Samoa Peseta Margaret Malua for enabling the two Samoa meeting. He said the two sides should not give up on the joint meetings
Play Audio
The leader of the Samoa delegation Peseta said there have been several meetings and now was the time for the Economic Integration Joint Task Force to identify the economic needs and oppottunirites and come up with a legal framework to achieve mutual goals.
Play Audio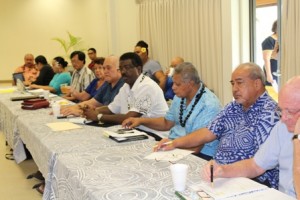 Director of Commerce Keniseli Lafaele said the private sector has forged forward with expansion and investment without the government.
He cited as examples of business expansion and investment local phone company Blue Sky extending to Samoa, Cook Islands and New Zealand, the Samoa branch of Western Union opening a money transfer and money exchange business at Tafuna Airport and the stationary and office supplies store from Samoa, SSAB opening a local branch.
Lafaele thanked Polynesian Airlines and the Samoa Shipping Corporation for helping with domestic air and surface transportation in the territory but raised concerns with Polynesian's freight costs.
The DOC Director said American Smaoa is interested about opportunities for the territory in Polynesian's MOU with Air Tahiti Nui.
Play Audio
CEO of Polynesian Airlines, Seiuli Alvin Tuala is one of the presenters at the meeting.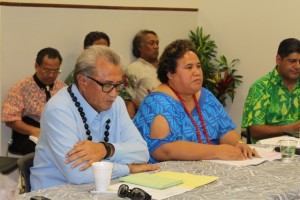 The local delegates are directors or deputies from the Visitors Bureau, Agriculture, American Samoa Telecommunications Authority, Tax Office, Customs, Shipyard, Port and the Chamber of Commerce.
Rep Alexander Jennings and Papalii Dr. Failautusi Avegalio are also attending and are supposed to report on the breadfruit project.