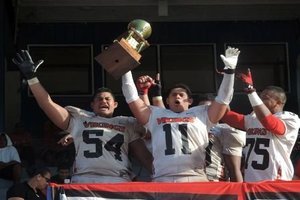 Over 60 points were scored between the Leone Lions and Fagaitua Vikings in what was one of the highest scoring affairs of the season!
The Fagaitua Vikings remain undefeated and are this year's ASHAA Champions as they beat the Leone Lions by a final score of 38-26!
In a game that was plagued by penalties for the Leone Lions, they were still able to stay in the game to the very end.
The first 2 quarters were a ping pong match of game leads between Rameis Fano of the Vikings and Fred Tagaleoo of Leone.
Fred recorded the longest kick return of the year for 99 yards answering a Fano touchdown early in the 1st, followed by a Vikings double pass to Malaki Peko to give the Fagaitua the lead which they held on to for the remainder of the game.
Other high lights include a late score by Stuart Toilolo for Leone but it wasn't quite enough to stop the big red machine who haven't lost a game since last year.
Congratulations to Coach Suaese Pooch Taase, his assistants and the MVP of the game Malachi Peko, Offensive player Rameis Fano and finally Leone's Defensive player of the Game Ayden Mao.