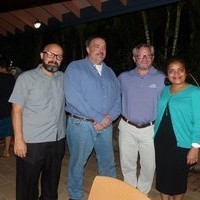 Restoring Equality and Fairness to Our Fellow Americans
in the Territories and Commonwealths
by Dr. Ben Carson
Many Americans do not appreciate the patriotism exhibited by our brothers and sisters in the Territories of American Samoa, Guam and the U.S. Virgin Islands, and in the Commonwealths of Puerto Rico and the Northern Mariana Islands. Year after year, you send more of your sons and daughters per capita into the U.S. Armed Services than any of the 50 states. I stand in awe of this commitment and thank you for your service to our country. All of the Territories and Commonwealths, especially those in the Pacific, are vitally important to our national security due to your positions as our first defense against potential encroachment by foreign powers.
We often lose sight of the fact that the U.S. government treats you as second class citizens, despite your service and status as American citizens. Whether intentionally or accidentally, we have not stood by you as much as you have stood by us. The government has negotiated trade agreements without your input, enacted labor policies that are crushing your economies, debated immigration protocol without considering how it would affect your communities, and yet we as a nation continue to demand more of you.
I am saddened to hear that every day, more and more of you in the Territories and Commonwealths are leaving your families and homes because the healthcare and educational systems are inadequate. It is unfortunate that your economic opportunities continue to be decimated by policies imposed by politicians far away in Washington.
Medical care in the American Territories and Commonwealths has historically lagged far behind the continental states, and Obamacare has only made the situation worse. Good health is an essential part of a thriving society and economy, and citizens of the Territories and Commonwealths  deserve policies that work.  More must be done to fix the broken healthcare systems.
I pledge to you that if I am honored to earn your vote during the presidential primary process and am elected to serve, I will restore equality and fairness to the citizens of the Territories and Commonwealths.
I will work to implement the following initiatives:
I will appoint a Territory and Commonwealth Advisory Committee (TCAC) consisting of representatives from American Samoa, Guam, the Northern Mariana Islands, U.S. Virgin Islands and Puerto Rico.
The TCAC will be integrated into my Presidential Transition Team, and be tasked with performing a holistic review of all federal regulations affecting the Territories and Commonwealths.
Once sworn into office, I will appoint a Special Assistant to the President responsible for day-to-day interaction with the Territories and Commonwealths.
I am confident that the TCAC will develop a comprehensive plan outlining actions to be  immediately taken through the Executive branch, as well as a blueprint for legislation that my administration will actively pursue through Congress.
I would also work hand in hand with Congresswoman Aumua Amata Coleman Radewagen to enact the following measures immediately:
I would strongly support relief from Cabotage restrictions. While the original intent of the Jones Act and Cabotage was to protect American companies, today the law keeps families separated and hampers already weakened economies.  I find it appalling that one airline connects Hawaii to Pago Pago only twice a week and costs around $1,400 round trip. Meanwhile six airlines service a similarly distant route–Hawaii from Las Vegas–for around $600. Concrete connections between the Territories and the Commonwealths is impossible under these federally imposed conditions.
While I am generally a strong proponent of free and open trade, I am concerned about the negative effect the Trans Pacific Partnership would have on American Samoa's economy, specifically the fisheries industry. The Obama administration, supported by former Secretary of State Hillary Clinton, negotiated the agreement that would phase out duties on canned tuna imports to the United States. The net result would be an increase in foreign competition to one of American Samoa's most important industries. As American Samoa is its own Customs Territory and is not party to trade agreements signed by Washington, it will end up incurring the cost of Washington's trade concessions without benefiting from reciprocity accorded to the Mainland by other TPP members.
This is just the latest of a long list of examples of Washington politicians passing laws and regulations with little thought as to how it affects the Territories and Commonwealths. It is imperative that you have a voice in all major policies advanced by Washington. I fully understand that decades of unfairness cannot be undone overnight, but I am confident that by working with our brothers and sisters in our Territories and Commonwealths, we can restore equality and revive the economies and spirit of these beautiful islands.