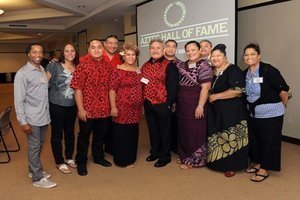 Ed Imo says he and his family had the times of their lives at his induction into the San Diego University Aztechs Hall of Fame last month.
Ed was defensive linesman for the Aztecs from 1976 to 1977.. He was named the 1976 defensive player of the year, .
And on October 23rd, he and four other SDSU alumni were inducted into the school's Hall of Fame,
Ed was accompanied to the festivities by his wife Meafou and their children and his younger sister Puniloa Filimaua who presented him at the induction ceremony. All of the expenses were covered by the university,
They attended a tailgate party before the Aztech's home game against Utah State.
Ed said everyone of our party got free tickets to the game.
He and his wife watched the game from the VIP booth and the rest of their group had tickets right below on the next level.
At half time of the football game, Ed and his wife were introduced and the highlights of his playing time at SDSU were shown on the jumbodron (giant scoreboard).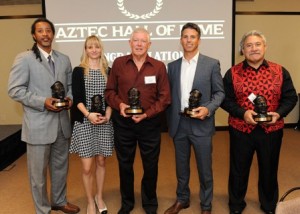 Ed said it was a once in a lifetime experience and one that he will never forget.
While in San Diego they reconnected with family and attended church at the First Congregational Christian Church where they belonged while he was attending college.
His family sang a hymn and presented a donation to their old church where their names are etched on the stones in front.