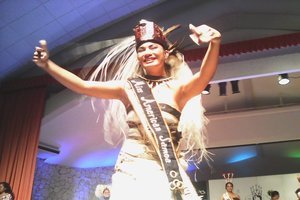 The new Miss American Samoa Suluga Taliau says winning the crown did not come easy.
The nineteen year old with roots in Faleasao, Manu'a, Nu'uuli amd Aoloau, topped the judges' score sheets to win the pageant from four other contestants.
Her parents are Suluga and Lepuapua Taliau and she was sponsored by Ashley and Associates where she interns.
Suluga also won the pre pageant interview, the siva, sarong and Miss Congeniality.
Minutes after she was crowned by former Miss American Samoa Anneliese Sword, Suluga said she never expected she would win the pageant.
Play Audio