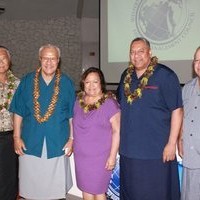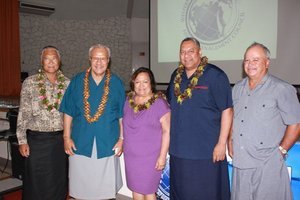 Acting Governor Lemanu Peleti Mauga's message to the group that regulates fishing for US territories and Hawaii is that solutions intended for the mainland may not work in small island states.
In his remarks to open the 164th meeting of the Western Pacific Regional Fishery management Council this morning, Lemanu, a veteran of the Persian Gulf War, likened the experience that American Samoa is facing with fishing regulations to what soldiers faced in the battle field during the Middle East conflict.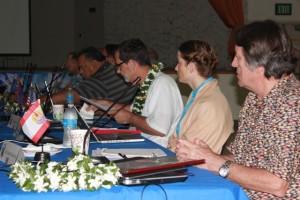 He said training techniques and equipment that were used in the training field in the US prior to mobilizing the troops did not work out in the battle field.
Lemanu made reference to the decision not to exempt fishing boats that supply the two canneries from the ban on fishing effort in the high seas.
Play Audio
The acting governor said American Samoa was thankful for the Council's support in developing local fishing coops and urged that the Council not pull the plug just because the coops are not operating on a satisfactory level.
The acting governor also commented on the Councils' proposal to reduce the 50-mile Large Vessel Prohibited Area.
Play Audio
Council Executive Director Kitty Simonds said the Council was instrumental in securing seats for the territory on the Western and Central Pacific Fisheries Commission which regulates commercial fishing in the Pacific Ocean.
Play Audio
During the opening of the Council meeting, Simonds presented a certificate of appreciation for the late Lauvao Steve Haleck, a former chairman and long time member of the Council.
Lauvao passed away last month.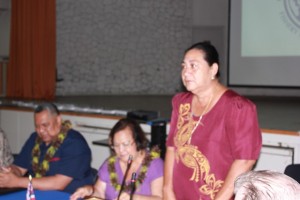 Accepting the certificate was Lauvao's widow, Melesete, who thanked the Council for the honor and said that Lauvao had been looking forward to the Council meeting in American Samoa.
Ms. Simonds acknowledged that she owes Lauvao her taupou title Seutaatia from Aunuu island.
The Executive Director also presented a check of $50,000 to Port Administration tor the design work to extend the dock in Malaloa to accommodate longliners.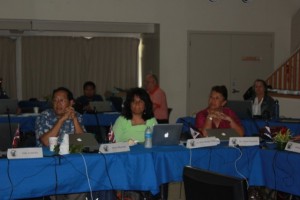 Port Director Taimalelagi Dr. Claire Poumele, a member of the Council invited Deputy Director of Port Christopher King to accept the check.
The other two members from American Samoa on the Council are Director of Marine and Wildlife Resources Dr. Ruth Matagi Tofiga and Taulapapa Willie Sword.