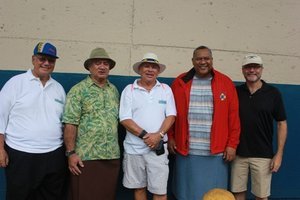 The 2015 Fishers Forum Day Saturday was everything about fish and fishing – from how it's done to who does it.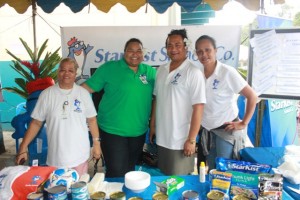 Booths that exhibited their services and resources ranged from the two canneries, two fishing boat owners, to water sports and fitness services, to the Coast Guard, dive companies, soil and water conservation service, the Department of Marine and Wildlife Resources and fishermen from Hawaii who demonstrated different bait techniques and how to cut fish.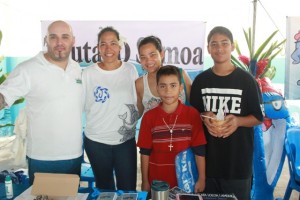 And there were lots of food booths with seafood being the main attraction, dancing and a live band,
From beginning till end the main dock was crowded with parents and children.
The young ones not only learned from the various companies and agencies who had booths but also took part in a treasure hunt to win prizes.
There were also tours of a purse seiner and longliner.
And a charter vessel built by the Tool Shop was on display.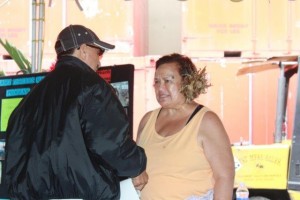 The Fishers Forum was intended to promote understanding of the important role of fishers in the territory and was sponsored by the Western Pacific Fishery Management Council and the American Samoa Department of Marine and Wildlife Resources.
Council Executive Director Kitty Simonds said, The Forum's theme, A Celebration of Fisheries and Marine Resources in American Samoa, came from the American Samoa Advisory Panel.
She was more than pleased with the response to the Fishers Forum.
Play Audio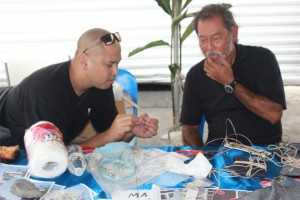 The Council which Ms. Simond chairs meets Wednesday and Thursday but today various Committees under the Council begin meeting at the Lee Auditorium.
Beginning fisherman Leon Malauulu hanged out at the booth where Council members from Hawaii were demonstrating baiting techniques.
Play Audio