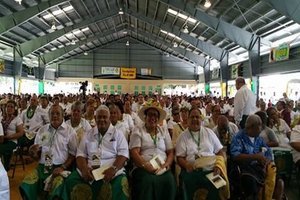 Leone High School, Home of the Mighty Lions, was a site of celebration yesterday, as current and former students gathered for a church service to open their school's 50th anniversary celebration.
Former students from the 60s, 70s, 80s, and 90s dressed in the school's colors green and white packed the school gymnasium for the opening service.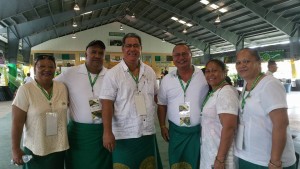 Members of the first graduating class were also present.
Several alumni from off island joined the opening with many more scheduled to arrive last night.
Pogia Tusi Suiaunoa, President of the LHS Alumni Association and a 1973 graduate was pleased with the outcome of the first day.
He said during the planning, only a few ex students committed themselves to the organization of the event and he credited them and their publicity efforts for yesterday's great turn out.
He estimated that more than 900 former students have registered as members of the school alumni.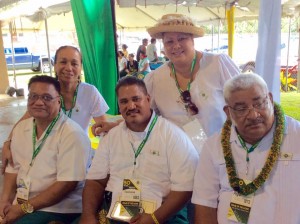 Pogia was Class President from his freshman to his sophomore years and was Student Body President during his senior year.
He said these leadership positions kept him out of trouble though he admits there were times he wanted to join the rowdy students.
In those days Leone High School was for students from Nu'uuli to Fagamalo until Tafuna High School came along.
Pogia said during their time at Leone, the school had its own police force and students enforced and imposed punishment for the crime of littering, tardiness, and uniform violations.
The students had their own court to mete out the punishment for the violators of the school rules.
Unity in strength is the Lions motto and Pogia said that spirit was alive and well yesterday.
Play Audio
Vaitifou Matau Ah Fook traveled from the mainland for the jubilee celebration.
Play Audio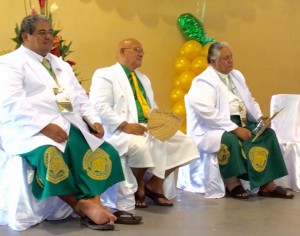 The opening church service was led by Rev. Elder Kereti Faiai of the CCCAS Afono, a graduate of 1984, while other graduates who are church ministers gave the Bible readings and offered prayers.
The sermon was delivered by Rev. Limua'a Samuelu of the Fusi, Saoluafata CCAS.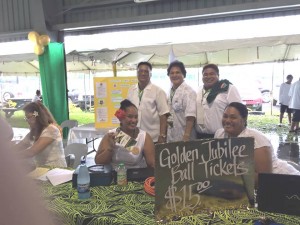 A slide presentation showing ex Leone students who have passed way was shown and candles were lit in their memory.