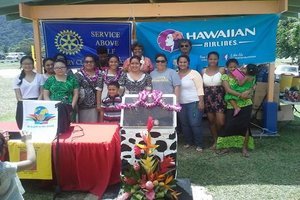 Six years after the tsunami that killed 34 people following a powerful earthquake in the early morning of September 29, 2009, family members are still feeling the pain just as much today as they did that fateful day.
Some have not spoken publicly of the parents, children or siblings they lost that early Tuesday morning until last Saturday at the Rotary Club and Hawaiian Air memorial service, held at the Tsunami Memorial Picnic Shelter at Lions Park,
Matasaua Anisi Pefu, the second eldest of 10 children relived the loss of her mother Bellie Leota Petelo in the tsunami.
She said the pain is still unbearable .
Play Audio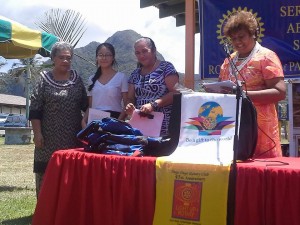 Matasaua, whose taking classes with Argosy University has become a mother to her siblings.
She expressed her gratitude to foster parents who have adopted them since they lost their mother.
Her younger sister sang a song dedicated to their mom.
Ellen Li, daughter of the late Li Chen, shared for the first time her memory of the day she lost her father.
She said everything seemed normal and it was like just other day but it was the worst day of her life.
Her dad didn't make it out of like the rest of her family and his name is one of the 34 etched on the monument erected in memory of the tsunami victims.
Play Audio
Saturday's Tsunami memorial Service was attended by First Lady, Cynthia Malala Moliga who acknowledged the Rotary Club of Pago Pago, Hawaiian Airlines and other organizations for coordinating this yearly service in remembrance of those who perished in the tsunami.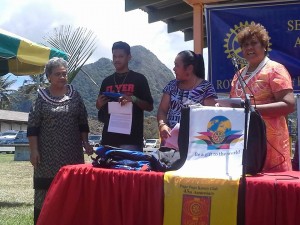 The names of each of the 34 victims were recited.
Also announced during the ceremony were monetary awards and gifts for children who lost their parents in the tsunami donated by One Global Family Foundation .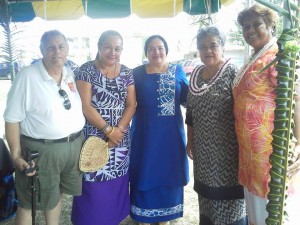 Mrs. Fa'aalu Iuli on behalf of Mrs. Laura Lafoia Ava-Tesimale, President of the One Global Family read a message of hope from the President as she was unable to be here.
Rev. Iasepi Ulu of the CCCAS church in Fagatogo led the prayer service at the memorial.