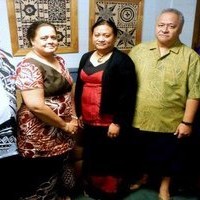 Faculty of the American Samoa Community College were updated on progress made over the last several months in the effort to remove the college from its current status under sanction by the Accrediting Commission for Community and Junior Colleges (ACCJC), a division of the Western Association of Schools and Colleges (WASC).
In February of this year, ASCC received word that WASC-ACCJC had issued an order for ASCC to Show Cause, an action taken when the Commission finds an institution to be in substantial noncompliance with its Eligibility Requirements, Accreditation Standards, or Commission Policies.
As a result of this action, ASCC is required to submit a Show Cause Report by October 15, 2015, which will be followed by a visit by a WASC ACCJC external evaluation team.
Several subcommittees have been working to address WASC findings.
A convocation for faculty held last week highlighted the progress of these Subcommittees, along with a full overview of the accreditation process .
ASCC accreditation liaison officer Sonny Leomiti said the Convocation was to give the faculty and staff a full understanding of the WASC-ACCJC Recommendations and what is being done to address them.
He said, " While we give credit to the Subcommittees for their hard work and to our administration for their support and leadership during this challenging time, we also hope to instill the idea that accreditation ultimately depends on all the stakeholders, and the better the understanding they have of what standards need to be met, the more effectively we will work towards the lifting of the WASC-ACCJC sanction."
ASCC continues to be accredited during the period of Show Cause and until the Commission acts to either withdraw accreditation, or when the WASC-ACCJC issues and concerns that initiated Show Cause are fully resolved and the institution is removed from sanction.