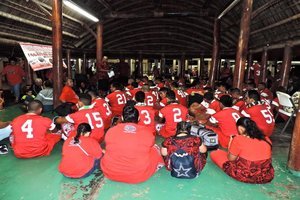 We say Bon Voyage to the Fagatiua High School football team who leave for Hawaii tonight on a two week tour to expose the players to off island competition.
Coach Suaese Pooch Taase is leading a group of 61.
Every member of the team and the coaching staff along with parents have been fundraising feverishly for a few months now to make the trip possible.
And Coach Pooch says thanks to the generosity of the community, businesses and their supporters they reached their goal of $125,000 to cover airfares, hotel accommodations and expenses while in Hawaii.
Coach Pooch and the team say faafetai le alofa to Rev. Johnny Fano and all servants of God, Governor Lolo Moliga and First Lady, the Governor's Office here and in Hawaii, Director of Education, Vaitinasa Dr. Salu Hunkin Finau, Utu Abe Malae and ASPA, all the businesses who've pitched in either cash or in kind contributions, the VA Clinic-Dr. Faumuina Vasai, the media for all the coverage especially Joey Cummings and the crew of KHJ and V103, all motorists who've donated one cent to $2,000, the president, officers and members of the Hawaii Viking Alumni and most especially the parents, students, coaches, relatives and principal and faculty of Fagaitua High School.
Manuia le malaga!