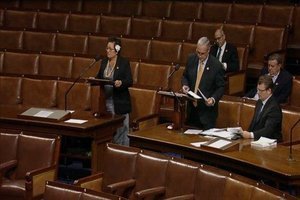 Congresswoman Aumua Amata was one of only eight members chosen to speak in support of the VA Accountability Act yesterday,
During a hot debate yesterday on the bill, House Veterans Affairs Committee Chairman Jeff Miller (R-FL), who managed the debate for the Majority, selected Amata as one of only eight speakers to speak in support of the measure during the half-hour allotted to the majority side.
A press release from the congresswoman's office said when the smoke cleared, the GOP had prevailed with passage of the bill by a vote of 256 – 170, with a number of Democrats joining the winning side. The measure will now move to the Senate for consideration.
Amata said, "For too long, our veterans, including the large number I represent in American Samoa, have been subjected to improper treatment, long wait times and other serious matters that have yet to be addressed."
She said, "This common sense legislation, of which I am proud to be a cosponsor, will enable the VA to hold those who do not perform their duties accountable, which will surely lead to better services for our veterans. No longer should our veterans come second to lifelong bureaucrats who have gamed the system while our veterans have suffered," .
The push for greater accountability measures began last year after egregious actions by VA employees were discovered.
This included falsifying wait times for veterans waiting to see a physician which resulted in several deaths at the VA facility in Phoenix.
Amata visited the VA facility in May to check on improvements.
She said, "Yet only two people have been held accountable so far, verifying the need for reform. Further strengthening the case for real reform is the mismanagement of several high-profile VA construction projects that have cost the American taxpayer billions of dollars in just the past few years."