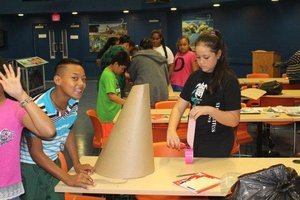 Forty, 5th-8th grade students are learning about the 95% of the ocean floor that has yet to be discovered and creatures living down the twilight and the midnight zones of the deep blue ocean as part of the Ocean Star Program which kicked off today at the Tauese P F Sunia's Ocean Center.
This is the 3rd year of the program and Education Assistant Charles Miller says the number of participants continues to rise, an indication that more young people are serious about learning about the ocean and its role in people's lives.
Part of the session this morning was a pre-test to find out what students know about marine and ocean life.
Most of the students scored above 50 which was very good according to Miller.
The instructors are sharing their knowledge with the students and also getting ideas from them, .
Play Audio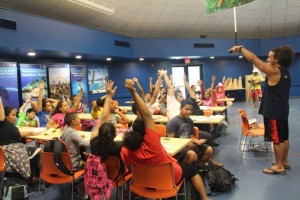 Ocean Star Program activities include a recycling competition, field trips to the ocean and educational presentations.
NOAA hopes that from their experience, the students will develop an interest in marine science and become active stewards in taking care of the ocean and marine environment.