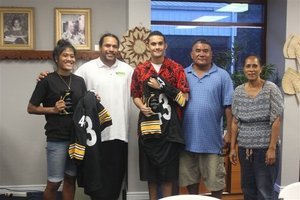 One of Troy Polamalu's last duties before he departs the island tonight was to award scholarships to three high school students who were outstanding in the football, volleyball and academic camps for the FaaSamoa Initiative.
The retired #43 for the Pittsburgh Steelers announced the names of the lucky three, along with Director of Education, Vaitinasa Dr. Salu Hunkin Finau.
16 year old Agape Mafua of Fagaitua High School is the winner of the Volleyball scholarship, Juliano Falaniko of Leone High School gets the football scholarship and 17 year old John Ma'a also of Leone High School was the outstanding student in the academic sessions.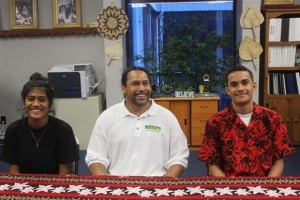 Juliano was presented his award yesterday while Agape, accompanied by her parents and John, were presented their scholarships today.
Troy also handed the students trophies and Steelers jerseys signed by the retired safety.
The Troy and Theodora Foundation will cover all the costs to send the trio to the mainland institutes where the coaches and teachers they worked with here, work.
Juliano will be heading to Utah, John will be flying to Pittsburgh while Agape will go to Washington State.
Troy's vision is that the students will be the ones leading the Faasamoa Initiative in the future.
Play Audio
John and Agape expressed their appreciation to the Troy and Theodora Foundation.
Play Audio