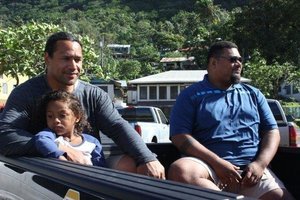 he retired safety of the Pittsburgh Steelers Troy Polamalu has arrived in American Samoa for his FaaSamoa Initiative, a combined sports, medical and academic camp for the youth of the territory.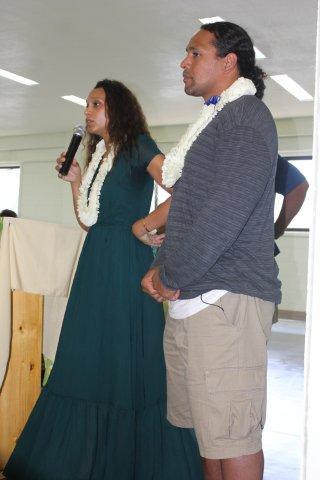 The Troy and Theodora Foundation has brought more than l50 football and volleyball athletes, coaches, doctors and nurses to spend one week in American Samoa.
Close to 2000 students have signed up for the football and volleyball camps as well as the academic and life skills classes.
Doctors and nurses begin clinics at district heath centers tomorrow.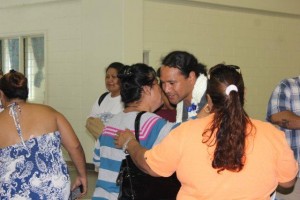 The Polamalu are also bringing three forty ft. containers of sports gear, medical supplies and equipment which will be distributed free of charge.
The first part of the camp was a Parents Symposium on Saturday at the Department of Youth and Women Affairs Youth Center in Pago Pago,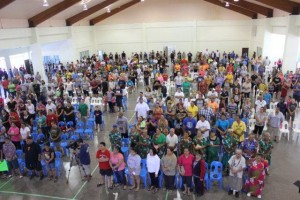 Troy and his wife Theodora received a rousing welcome ftrom the crowd which included members of the senior citizens group, Toe Afua Mai Matua, parents and young peopkle.
Some held welcome and faafetai signs.
The hard hitting but soft spoken Troy wiho devoted all of his l2 years in the NFL to the Pittsburgh Steelers told the packed center that parents influence the success of their children in everything. His wife also shared how her African American father and Greek mother pushed theri children to succeed in school.
Click here to hear Troy's talk at the Parents Symposium:
Play Audio
At the end of their talk Troy and Theodora and their two sons Paisios and Ephram distributed brown bag lunches to everyone in the center.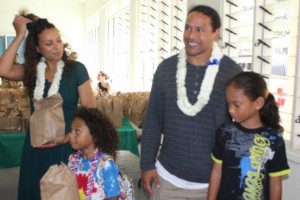 It was a great start for the Faasamoa Initiative but the only drawback was the muffled sound system which made it difficult to hear the Polamalus message.