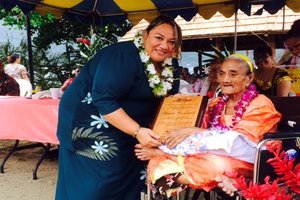 The oldest participant in the Territorial Administration on Aging or TAOA Program is 99-year-old Fiatagata Tuisamatatele.
Tuisamatatele turns 100 years old on June 6.
Tuisamatatele was born in Fagalii, American Samoa and currently resides in Tafuna.
She has one son and four grandchildren.
One of her grandchildren, who brought her to the event today, said their family continues to be thankful that their grandma is still with them.
Tuisamatatele was one of a handful of senior citizens recognized in the celebration of Senior Citizens Day at the Suigaula o le Atuvasa this morning.
The rainy weather did not dampen the spirits of senior citizens, who took part in the parade that opened the celebrations.
Lt Governor Lemanu Peleti Mauga and Mrs Pohakalani Mauga and TAOA Director Tifimalae Ale led the parade.
In his remarks, Governor Lolo described senior citizens as the treasures of families, of villages and of American Samoa.
He said they symbolize the knowledge of our past and they are the foundation of our future.
The governor said nowadays there is a gap or disconnect between the youth and our elders and this is the reason why we are seeing a lot of problems in our community and with our youth.
He advised the gathering to connect the youth with our elders so that they can learn from our treasures.
Tuisamatatele received the award for the Oldest Senior Participant with the TAOA Program presented by the staff of Congreswoman Aumua Amata on her behalf.
The Golden Citizen Award, provided by Governor Lolo, was presented to military veteran and longtime public servant Tuiteleleapaga Peseta Fue.
Tuiteleleapaga was an advisor to Governor Tauese, was Commissioner of Public Safety and Director of TAOA.
Ale accepted the award on behalf of Tutielelepaga who was not present.
The Military Appreciation Award, also provided by Governor Lolo, was presented to Afutoto Lemauosamoa Talamaivao Lei Meredith.
She was one of the first Samoan women to serve in the Navy.
The Second Oldest Senior Participant with TAOA Award was presented by Lions Club official Tamatoa Tony Langkilde to 96 year-old Isapela Malautea.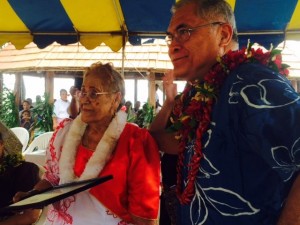 President of the Rotary Club Utu Abe Malae presented the award for Oldest Employee with the SCSEP, TAOA's part time employment program, to Hannah Thompson.
A final award was presented to TAOA Director Ale from the grantor Region 9 for implementing the Hot Meal and Home Delivery Meal Program and provisions of the Older Americans Act Title III.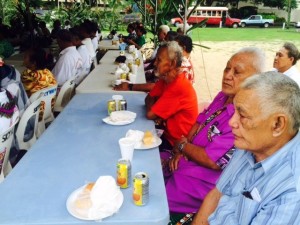 Following the awards presentation, senior citizens were treated to a luncheon and entertainment by several youth groups.