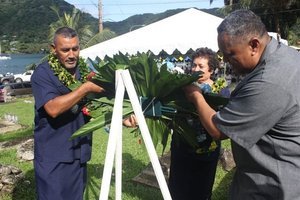 The sacrifice of men and women who died serving the nation was remembered in three ceremonies yesterday.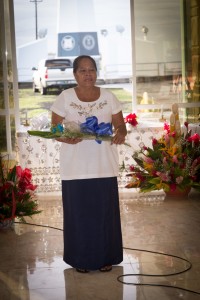 The Veterans of Foreign Wars held their remembrance at the Veterans Center in Tafuna.
ASG held a memorial service at the Satala Cemetery and at sea.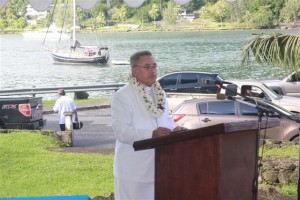 And across the island families placed bouquets on the graves of their loved ones.
At Satala only a few graves had flowers at the time the Memorial Service got underway.
Rev. Dr. Eteuati Tuioti of the Nu'uuli Methodist Church made a point in his sermon that present generations are enjoying the benefits of the sacrifice of past generations.
But he said looking at the graves at Satala it seems that many have been forgotten.
He said his congregation may have forgotten about the faifeau buried near the church who came here as a young man and dedicated his whole life to God and the Nu'uuli congregation.
Rev. Tuioti said the faifeau wasn't from Nuuuli and his family in Savaii probably wanted to take him home to be buried but the congregation wanted to lay him to rest here.
"The parishioners may have forgotten about him," said the reverend, who added that his plan for Memorial Day was to paint the faifeau's grave and decorate it with flowers.
Speaking about the sacrifice of the men and women of the Armed Forces, Reverend Tuioti said theirs was a selfless and self giving act that present generations should honor and remember.
Play Audio
Lt. Governor Lemanu Peleti Mauga and his wife Pohakalani Mauga, Congresswoman Aumua Amata and Representative Faimealelei Anthony Allen were the only leaders present.
Governor Lolo Moliga who returned Friday night was on the program to speak however Lt. Governor Lemanu spoke on his behalf as he couldn't make it.
Lemanu quoted, "A nation reveals itself not only by the men it produces but also by the men it honors and the men it remembers."
He said it was incumbent upon us to continue the Memorial Day tradition of honoring the sacrifices of those who died for the liberties and freedoms we enjoy today.
Play Audio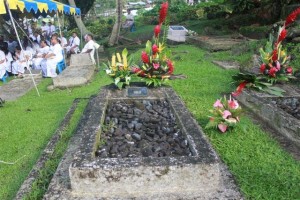 The lt governor, assisted by Congresswoman Aumua and Rep. Allen placed a wreath on one of the graves.
The memorial service and laying of wreaths was repeated just outside the harbor in remembrance of military men and women who lost their lives at sea.