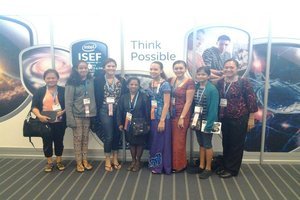 16-year-old Charu Joserose of Tafuna High School is a Grand Awards recipient at last week's International Science and Engineering Fair in Pittsburgh, Pennsylvania.
Charu is one of eight students from around the world who placed fourth and received $500 in the Plant Sciences category.
Her project is titled "Anthracnose Disease Resistance by Turmeric (Curcuma longa L.) Induced Priming in Chinese Cabbage (Brassica rapa L.). It explored the use of the spice turmeric in preventing the fungal disease Anthracnose from affecting plants, fruits and vegetables.
Chaperone Magdalene Augafa-Leauanae of the Department of Education's Office of Curriculum and Instruction said from Honolulu yesterday that Charu placing in the Grand Awards instead of the Special Awards category "is a stepping stone for American Samoa and something to celebrate in our many years of trials!"
The Tafuna High School senior is one of half a dozen students from private and public schools who represented American Samoa at the Intel ISEF.
Others were finalists Liana Gurr of Tafuna High School, Tiara Drabble of South Pacific Academy and observers Suli Sataua of Samoana High School, Gayathri Murali of South Pacific Academy and Dorvida Fuiava of Manumalo Academy.
Augafa-Leauanae said aside from the competition, the week in Pittsburg offered the students the opportunity to take part in quite a few science-related activities such as workshops/symposia sessions, outreach, outings at Carnegie Science Field, and Heinz Field Stadium, home of the Pittsburg Steelers.
She said, "All in all, it was a very rich learning experience for both our finalists and observers as well as the adult chaperones Cecilia Tuionoula of South Pacific Academy and myself."
Augafa-Leauanae thanked the Director of Education Vaitinasa Dr Salu Hunkin Finau and DOE, the American Samoa Government, teachers, mentors and parents for supporting the young scientists who represented American Samoa at the International Science and Engineering Fair.