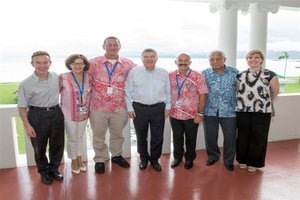 Officials of the American Samoa National Olympic Committee presented a report on the status and needs of sports development in the territory to the President of the International Olympic Committee Thomas Bach at a meeting of the Oceania National Olympic Committees held earlier this month in Fiji.
President Victor Langkilde and Secretary General Billy Young attended the meeting .
In his address at the ONOC General Assembly President Bach said, "Sport can contribute in many ways with regard to health, education, cohesion, social development, peace-building and nation-building, both internationally and nationally."
He called again for the role of sport to be mentioned in the United Nations Sustainable Development Goals (SDGs), which are to be approved in September.
He said IOC is working f to have sport included in the political declaration introducing these SDGs, and he asked all the ONOC delegates to ask their governments to support this move.
During his two days in Fiji, the IOC President held meetings with representatives of all the 17 NOCs that make up ONOC.
They discussed the preparation of the region's athletes for the Olympic Games in Rio next year, the qualification criteria and the scholarship program being supported by Olympic Solidarity.
One of the main topics discussed with the IOC President was the construction of the ASNOC sports facilities.
Langkilde said the IOC President has given his blessings and strong support to ASNOC with all of its work in American Samoa for sports development and promotion of Olympic values.
Langkilde and Young oinformed the IOC President of the strong partnership and support of Governor Lolo Moliga and his administration for ASNOC.
They also reported that ASNOC is more active and engaged with the community in the various social and sport programs.