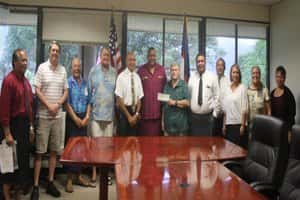 The Church of Jesus Christ of Latter Day Saints today presented a check of $25,000 to the American Samoa Government and the Pago Pago Rotary Club for the Pala Lagoon Swimming Center.
The center which will feature three pools, a kiddie pool and bathhouse, is an initiative by the Rotary Club aimed at reducing the number of drowning cases each year in American Samoa.
The non profit group has put aside funds from its annual golf tournament for the project.
It has also received the support of Governor Lolo and the American Samoa Government which is providing $435,000 through the Community Development Block Grant.
LDS National Public Affairs Director for American Samoa Kalilimoku Hunt said the LDS Church is a part of this community and the church always want to help anyway it can.
Play Audio
Acting Governor Lemanu Peleti Mauga accepted the check and then presented it to members of the Rotary Club.
He said the donation will greatly help in fulfilling this important community project.
Play Audio