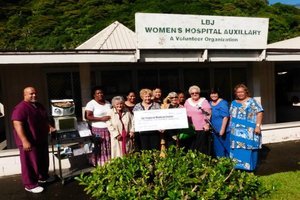 The Dental Clinic at the LBJ Hospital received a generous donation today from the Womens Hospital Auxiliary.
Dental Clinic Chief Dr. Stanley Gurr and Dental technician Mafutaga Uso accepted a check of over $10,000 from Auxiliary members led by President Betty Ah Soon.
Ah Soon told KHJ News after the presentation that they are able to continue their giving for the hospital through the sales from their store at the LBJ.
Play Audio
The donation will be used to buy supplies for removable and fixed prosthetic appliances.
It will also go towards the purchase of fluoride and hand pieces for the Dental Clinic.
Dr. Gurr expressed appreciation to the Womens Hospital Auxiliary for their unselfish service and said their donation will help the Dental Clinic in their mission to deliver dental services for the community.