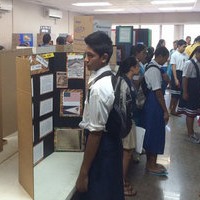 More than 170 students from private and public elementary schools are showing History Day judges their projects about important events throughout history that shaped policies in American Samoa and the world.
The projects range from important individuals in the history of the United States to the shaping of the governments of American Samoa and Samoa, to the Berlin Wall, the matai system versus Christianity, and domestic violence.
13-year-old Valencia Tinae of Leone Midkiff Elementary researched a particular domestic violence case that brought about sweeping national reform on domestic violence laws including the Thurman Law also known as the Family Violence Prevention and Response Act.
It's the case of a Conneticut homemaker Tracey Thurman who sued the city police for failing to provide her equal protection under the law against her abusive husband.
Valencia said she wanted to focus on Thurman's case because domestic violence is such a big problem in American Samoa.
She said Thurman was ignored by the police and city officials despite her attempts to file complaints against her husband, Charles.
11-year-old Alexander Coffin Jr., of Matafao Elementary explains why he decided to do a project about the Berlin Wall.
The local National History Day competition is organized by the Amerika Samoa Humanities Council in conjunction with the Department of Education.

The second part of the elementary competitions will be held tomorrow at the Lee Auditorium.

The high school competitions will be held next week.

Tags: