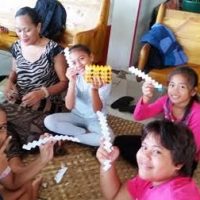 A project implemented by the UN Women Fund for Gender Equality and the Samoa Victims Support Group is reportedly ensuring economic security for families living in and around urban Apia.
Nofotane, according to Talamua Online, is training young married women to learn new skills and in the process also contributing to climate change mitigation.
Instead of burning plastic waste, they are recycling them into colourful bags.
The training has helped take plastic waste  like coffee mix satches, rice bags and other plastic off the streets.
Nofotane has trained more than 3,000 women, particularly from around the Vaitele Industrial area, and more than 400 now earn a living from the new skills they've learned.
The organizers said the project is not about changing cultural perspectives and aspects of the fa'aSamoa.
SVSG President Siliniu Lina Chang said, "The project merely aims to improve the economic empowerment of women and to increase their participation in domestic and community matters, as these are some of the most important contributing factors to achieving gender equality."