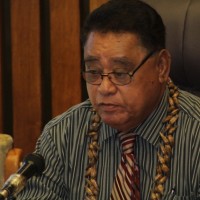 The 2018 Flag Day was the hot topic of discussion on the Senate's first day back at work after a four week recess yesterday.
Senator Tuiagamoa Tavai was the first to broach the subject suggesting that the Senate advise the governor to just have a prayer service and a flag raising to mark the 218th Flag day.  Tuiagamoa said the island has suffered devastation from Gita and  the territory has requested financial assistance from the federal government which is forthcoming.
Yet we are now going to spend money on Flag Day , but what assistance is our government giving to the families who were affected.
The senator from Malaeloa said he would rather that the government give money to help those impacted by the cyclone.
He said even though  a n invitation has been sent to Samoa, they can come another time.
But regardless of the invitation to Samoa, it's not appropriate to have a Flag Day celebration.
Tuiagamoa said Flag Day can still be commemorated, with a prayer service on Sunday and a flag raising on the actual date m but cancel everything else.
Senator Satele Galu Satele supported Tuiagamoa 's suggestion.
He said he doesn't think there's anyone else to give advice to the Governor but the Fono about this matter.
He too felt that a simple flag raising would suffice to mark Flag Day and the Fono can make a decision and advise the governor.
Satele described as kids games , the decision making regarding the fautasi race where a meeting of fautasi captains decided to cancel the race then another meeting was held and the race was on again.
He felt that the money to be spent on Flag Day should be given to  families whose homes were destroyed .
Satele said it seemed that the people in decision making don't feel or even care about the suffering of the families who have been displaced by Gita.
Senate President Gaoteote Palaie Tofau responded that the Flag Day has already been budgeted and the law doesn't allow money that has been approved to be used for something else.
He said no one knows when a hurricane will hit, but Flag Day is an annual appropriation in the budget law that the Fono has approved.
Nevertheless Gaoteote said he will discuss the senators' recommendations with the governor.
Later in the discussion Tuiagamoa suggested that the Fono approve a resolution to use the $200,000 for Flag Day to help families displaced by Gita.