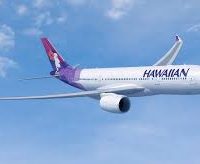 Hawaiian Airlines has cancelled an order for a new version of the Airbus A330 and  ordered 10 next-generation Boeing 787 aircraft.
The 787-9 will be used to replace Hawaiian's existing A330 aircraft on flights to American Samoa, Tahiti, Australia, New Zealand, Asia and mainland USA.
The increased range of the new plane will give Hawaiian the opportunity to introduce new non-stop flights to Europe from its Honolulu base, as well as new destinations in Asia.
Hawaiian has options for a further 10 787's, the first is due in 2021.
The deal is said to be worth US$1.5 billion after standard discounts.