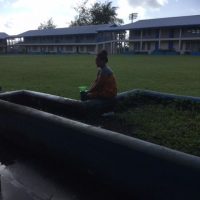 Families now living at the emergency shelters want to  return to their homes as soon as they can.
This is the case of a family of about 40, comprising several couples and their children, living at the Tafuna Elementary School.
The mother who did not want to be identified said several of the male members of her clan were still at their homestead trying to rebuild temporary shelters.
While she appreciated the government providing a temporary home for them she said they want to rebuild as soon as they can.
As we spoke teenagers were babysitting at least two infants.
In other classrooms, young men and women were sweeping and mopping the classrooms.
A mother from Tafuna and Aua,  Vaimagalo Danielson spoke with KHJ News reporter Letau Laussen about her situation.
Play Audio
The families at Tafuna say their most urgent need is clothes especially for the children and bedding.