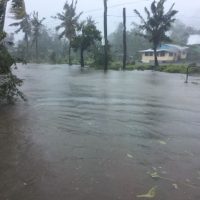 President Donald Trump has signed an emergency declaration for American Samoa after widespread destruction in the territory caused by Tropical Cyclone Gita.
The declaration allows the Department of Homeland Security and Federal Emergency Management Agency to coordinate disaster relief efforts.
Governor Lolo Moliga said he was pleased with the immediate response to American Samoa's request for a presidential declaration that the territory is a disaster area.
He said under the declaration the federal government is to provide 75% assistance and the territory has to provide a 25% match. But the governor says we will be seeking a waiver of the local match.
He has instructed his staff to work with Congresswoman Aumua Amata's Office on the request for a waiver.
FEMA officials arrived on island yesterday and today and more are coming tomorrow.
Assessment teams will begin farming out tomorrow to document damage throughout the island.
We will have more details on the type of assistance authorized under the presidential declaration in our 7am news Monday.