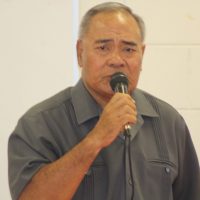 This morning Governor Lolo Moliga signed a declaration of emergency which is a needed step in order to seek federal assistance with recovery and rebuilding in the wake of Gita.
Speaking to KHJ News late this morning, the governor said that there's been widespread damage to homes, roads, utilities, and buildings.
He said Lt. Governor Lemanu who is the Governor Authoized Representative to the Federal Emergency Management Agency is communicating With FEMA officials from Region Nine , concerning damages and possible assistance.
Lolo said today they are focusing on providing assistance to families and individuals.
Efforts are also being made to restore power, water and phone lines and also reopen road access.
Emergency shelters have been opened at Fagalii Elementary, Leone High School, Tafuna Elementary, Samoana High School and Fagaitua High School and residents are occupying these centers.
The governor said the Emergency Operations Center has  fielded calls from all over the island.
He said  assessment teams would be dispatched in a day or two to document damages caused by the cyclone.
StarKist Samoa has cancelled its night shift for today and production has also been called off tomorrow.
Employees are asked to listen to the rdio for announcements about hen they will return to work.
Talofa Systems 401 production (or 1 pound crew) will work for 2nd and 3rd shifts today but everyone else will be off.
401 production will also work all 3 shifts tomorrow Saturday 2/10/18 while everyone else will be off.
Please call HR at 252-3762 for more information.
Tonight's Hawaiian Air is cancelled but will operate tomorrow night arriving 930 and departing 1130 pm.
No inter island flights until further notice.