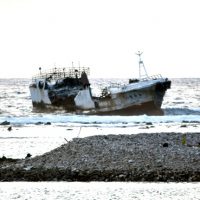 There was no one on board the fishing vessel that is grounded off Leone village.
Residents and motorists woke up yesterday morning  to see the vessel on the reef.
Commissioner of Public Safety Le'i Sonny Thompson says the boat did not have anyone on board.
He echoed a report by US Coast Guard Lt. Tanner Stiehl which we broadcast yesterday that the boat had been adrift at sea for some time.
It appears that the vessel was deserted.
The Coast Guard said there was no oil spillage from the vessel but they are monitoring the situation to mitigate any pollution threat.
The territory has still not been able to get rid off another Asian longliner that ran aground off Nuuuli in 2015.