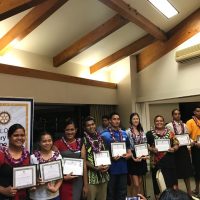 Last month, Rotarians went out to all the seniors on island and one from each school was nominated as being most worthy of the 4 way test award.  The 4 way test is something that Rotarians use as an ethical guide.
Is it the Truth
Is it fair to all concerned
Will it build good will and better friendships
Will it be beneficial to all concerned
On Saturday, Rotarians honored students from 11 different schools at their annual 4 way test dinner at Sadie's By The Sea.
DOE Director Dr Ruth Matagi was the keynote speaker.
Play Audio
Congratulations to the following award recpients.
1 Samoana – Mosese Lomu Jr
2 Nu'uuli Vo tech – Sili Ta'amilosaga
3 Manu'a – Samantha Scanlan
4 Pacific Horizons – Esme Peck
5 Kanana Fou. – Penny Arieta Pine
6 Leone – Sailimalo Tafalesolo
7 Fagaitua – Angelo Mayer
8 SPA – Josh Tabui
9 Tafuna HS – Athanasius Talataina
10 Faasao Marist S – Faustina Fetalaiga
11 Manumalo – Chrysolitetheresa S Maiava