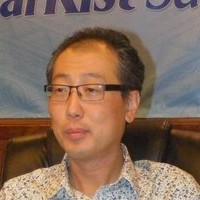 StarKist Co., the parents company of StarKist Samoa today confirmed that Andrew Choe, President & CEO at StarKist Co., will visit American Samoa next week.
Choe who arrives Monday and departs Friday, will spend time with employees at the StarKist Samoa plant, and also plans to meet with government and Fono leaders.
Choe said, "It is always an honor to be in American Samoa and I look forward to a productive time with our StarKist Samoa leadership team and employees.
"It continues to be difficult for American Samoa to compete with other manufacturing locations where labor costs and other expenses are substantially lower and subsidized. During this visit, I look forward to meeting with local leaders, both in government and business, to discuss critical issues that are impacting StarKist's business in American Samoa."
A press statement from the cannery says, "Despite the many issues working against American Samoa, StarKist remains committed to working with Governor Lolo Moliga, Congresswoman Amata Radewagen, Senate President Gaoteote Tofau, House Speaker Savali Ale, Fono members and the people of American Samoa to ensure a globally competitive and viable economic environment for conducting business in the territory."
This is Choe's third visit to American Samoa since he became the company's CEO in November 2014.