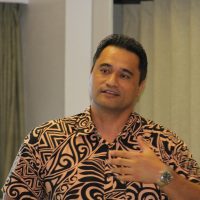 Attorney General Talauega Eleasalo Ale has answered questions regarding the dividends that ASG received from the American Samoa Hawaii Cable,  this is the company managing the undersea fiber optic cable between American Samoa, Samoa and Hawaii.
KHJ News had asked the AG about reports received by KHJ News that ASG was only paid a portion of the dividend ASH earned…that the full amount was $2.6 million and ASG was paid only $1,5 million.
He explained that this is not true.
"American Samoa Hawaii Cable LLC has two members, Elandia owes 66.7% and ASG owns 33.3%.
"In late 2016, ASH declared a cash dividend in the total amount of $1.65 million to be distributed according to each member's ownership interest.
"ASG's share was $550,000. Elandia got $1.1 million.
"Elandia elected to transfer a portion of its distribution to ASG ($1,024,749) to pay its tax liability for the tax year 2015. So, ASG received a dividend payment of $550,000, and a tax payment of $1,024,729."
KHJ News asked if it's true that ASTCA's debts with ASH were deducted from the dividend due ASG.
The AG's reply was no. No portion of cash dividend due ASG was used to pay ASTCA's debt.
But he reveals some new information which indicates that debts were paid off.
Talauega said, "ASH, as a private company, also declared a special non-cash distribution, which was used by ASH to payoff outstanding debts of certain customers affiliated with its 2 members : BlueSky for Elandia, and ASTCA for ASG.
"The total amount of the noncash distribution was $9 million – $3 million was credited to ASG and used to payoff ASTCA debt to ASH, $6 million was credited to Elandia and used to pay off BlueSky outstanding and future debt to ASH.
"As a noncash distribution, neither ASG nor Elandia received any cash from the ASH.
"Instead, ASH kept the entire $9 million, and in return cleared from its books outstanding debts of ASTCA and Bluesky.
"Overall, this transaction allowed ASH to clear its books in time for annual audits.
KHJ News had asked Talauega if there was any plan  to report the dividend to the Fono for appropriation.
He said, "because ASG did not receive any cash from this transaction, there was nothing to declare or appropriate."