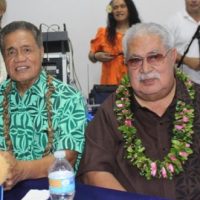 More than a year has passed since the groundbreaking of a new building at the shipyard at Satala.
The building which is to house various workshops and the business division of the American Samoa Shipyard Services is one of the projects funded with money from the American Samoa Economic Development Authority bonds.
Yesterday in the Senate, Senate President Pro Tem Nuanuaolefeagaiga Saoluaga Nua questioned what has happened to the project,  and more importantly what has become of the money allocated for the new building.
A groundbreaking for the building was held November 3rd , 2016 and at the time the Shipyard Services CEO, Moefaauo Bill Emmsley was quoted in a press statement saying the new building will house five critical workshops and business division, replacing the dilapidated and unsafe facilities which are inconveniently scattered throughout the yard.
Nuanuaolefeagaiga told KHJ News the groundbreaking was a big deal and it was publicized in the media.
He said the Fono needs to know what has happened to the money that was intended for the building.
The amount that was mentioned at the groundbreaking ceremony for the building was $1 million from the bond proceeds.
According to the Manu'a senator the Fono cant let matters like this go without questioning.
He says, "Who knows, maybe supplies were bought and those materials have been used elsewhere."
"For all we know maybe on someone's house," he said.