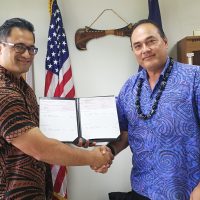 KHJ News asked Senate President Pro Tem Nuanuaolefeagaiga Saoluaga Nua if the Fono is going to ask questions about the dividend for ASG from the American Samoa Hawaii Cable of $1.6 million and also the $2.6 million from the StarKist penalty for environmental violations.
His response is that the law specifies that any windfall or new money that ASG receives must come to the Fono for appropriation.
He said other than what has been reported in the media, the Fono hasn't been told details of the ASH Cable dividends and the money from StarKist.
KHJ News is seeking further information about the ASH Cable dividend from the President of the company, CEO of BlueSky Pacific Group, Toleafoa Douglas Creevey and ASG officials including the attorney general, governor's legal Counsel and the governor's executive assistant.
Information received by KHJ News indicates that the total amount of the dividend was $$2.6 million however a debt of the American Samoa Telecommunications Authority with ASH Cable was deducted from the money that ASG was to receive.