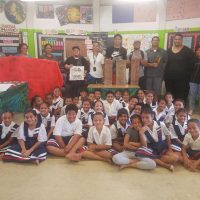 The National Park of American Samoa and the American Samoa Community College have teamed up on an education program that helps perpetuate traditional art forms.
Through the partnership and support from ASCC teacher Reggie Meredith, the National Park Service and ASCC embarked on a two-year partnership that focused on educating Samoan youth about the beauty and traditions of Samoan art.
ASCC art students handcrafted traditional Samoan artifacts including a Siapo,woodcarvings and traditional fine mats.
These high-quality art pieces are now on display at the National Park of American Samoan Visitor Center in Pago Pago and are on display for visitors from around the world.
The NPS says one of the most rewarding aspects of this partnership recently occurred when ASCC art students were invited into a classroom at Leone Midkiff Elementary School to serve as mentors and teachers to 3rd grade students.
The younger students learned all about the traditions and stories of Samoan art and had the opportunity to create handcrafted Samoan traditional artifacts.
Park rangers at the National Park also had a chance to learn these new skills.
Meredith commented, "This partnership provided our young people with a new perspective on how to perpetuate our precious cultural arts for the sake of the present, and for future generations.
This component of learning and then sharing that new knowledge was a key factor in our collaborative efforts and we are grateful for the National Park Service in helping to achieve this.
The plan is to nurture this art of sharing and collaborating for as long as possible."