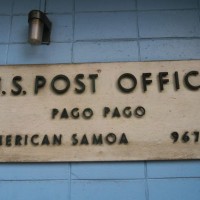 The Pago Pago Post Office is expecting the final pellets of holiday packages before Christmas Day to arrive on the cargo flight this afternoon.  
And postal service staff will be working tonight to sort the mail and have it ready for pick up tomorrow and Sunday. 
Post Master Tao Suani says the Post Office will be opened tomorrow from 830am to noon for retail and from 11am to 4pm for back door release of packages.
The Post Office will also be opened on Sunday, but this is for back door release of packages only from 12 noon to 3pm. 
PO Box lobbies will open from 10am to 3pm on Sunday.
 The retail lobby will be closed on Sunday, December 24th.
The Post Master says the quantity of outbound mail has dropped.  
Meanwhile for incoming mail about 20,000 pounds of mail was received for the past two Fridays.
For this weekend, the Post Office is expecting 30,000 pounds.
Post Master Suani and her staff wish everyone a peaceful and safe Christmas and New Years.