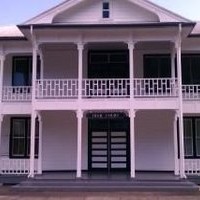 In court news, the Samoa News reports a 21 year old man from Samoa who has spent 9 months at the Territorial Correctional Facility in pre trial confinement has been ordered to return home.
Peniamina Faataulevao was described by his church pastor as a kind and well behaved young man who never missed church functions.
But Chief Justice Michael Kruse described him as a predator who needs to be removed from the community.
The defendant admitted to having a sexual relationship with a 15-year old girl , and said he didn't know that this was against the law.
He was charged with rape, sexual assault and first degree sexual abuse — but under a plea agreement with the government, he pled guilty to first degree sexual abuse, and the remaining charges were dropped.
During sentencing, Chief Justice Kruse acknowledged the defendant's age but said the court was concerned that Faataulevao, who was fresh on the island, has been convicted of a felony,
Kruse noted that the government has been taking care of the defendant for 9 months, and immigration law requires sponsors to take responsibility for people like him.
The CJ summed up that despite the statements about the defendant being a Christian, he was someone in the care of parents and village council but once removed from that village and home setting, they go astray.
Public Defender Douglas Fiaui asked that the young defendant be given another chance.
He proposed a probated sentence and that he be allowed to remain in the territory, as his immigration ID doesnt expire until March of next year.
Prosecutor Christy Dunn didn't have any objections.
Kruse said the Court did not oppose that prison was not the place for the defendant, and will make sure to give him a sentence that would prevent him from spending any more days in prison.
At the same time he said Faataulevao will not be allowed to go free in the community, because of concerns for the safety of young children especially young girls.
So despite the defendant's valid immigration status, the CJ said the Court wants to make it clear that because he's been convicted of a felony, his chance to continue to live free on island will be revoked, and the Court will send him to "where he came from."
Kruse imposed a sentence of 28 months imprisonment, crediting the nine months Faataulevao was held at TCF in pre trial confinement.
The balance of his jail time is stayed and he has to depart the territory and not return during his probation which is seven years.